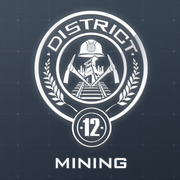 District 12 
is the poorest district in the nation of Panem. It's main industry is coal mining. 
According to a recent census, District 12 has a population of 7,935 people; making it the smallest District in Panem in terms of population.
Jobs
Some of the jobs that are available in District 12 include:
Coal Miner
Geologist
Blaster
Surveyor
Metallurgist
Hob Merchant
Herbalist
Location
District 12 is located in the Appalachia.
Tributes
The tributes from District 12 are said to have a disadvantage because they do not work in their industry until the age of 18.
Known Tributes
Ad blocker interference detected!
Wikia is a free-to-use site that makes money from advertising. We have a modified experience for viewers using ad blockers

Wikia is not accessible if you've made further modifications. Remove the custom ad blocker rule(s) and the page will load as expected.